Newsletters
Congratulations to Petro Kruger on all her major tennis achievements
Wednesday, November 2, 2016 - 13:58

Greetings from Dean Wednesday, 02 November 2016






Dear Members,

I have quite a lot of exciting news to cover so apologies if this is a lot to read.

Golf Course
Our course is in stunning condition after the recent hollow-tining. There is only one small issue on the 7th fairway where it was attacked by the fusarium fungus. It is recovering well and will be up to standard in the next couple of weeks. Greg and his teamare to be congratulated on a superb job in ensuring that we have one, if not the best conditioned courses in the Western Cape.

Last week we hosted the Western Cape Pro-Am and the compliments we received by the professionals and amateurs alike was exceptional. This week, Greg hosted the green keepers annual meeting and all his peers had nothing but praise for the condition of the course and to coin a phrase, were green with envy. As of 1 November, there will be no placing except for the 7th fairway until it has fully recovered.

Tournaments
Firstly, to the ladies who had a good year. For the first time since Erinvale has played in the Silver Handicap Division of the WP league, they ended up tied in first place in their section on 12 points. This led to them playing against Milnerton at Strand GC on the 25 October in the quarter finals. Unfortunately, they lost this game but not without a good fight. Very well done to all the ladies who participated between January and October. They played with great spirit and enthusiasm and we are proud of their achievement. I am sure they will do us proud again next year.

The men have also done us proud by winning their section and only losing one game in the Harry Solomon league. Willem is to be congratulated in managing this side under trying conditions at times, in gathering a competitive team. Congratulations to all who played and flew the Erinvale flag high. Last Saturday we played in the first knockout round against Simonstown and unfortunately were eliminated. Simonstown have never lost a game at home so it was always going to be a tough match, and of all the teams in the draw, this is the one we did not like to get in round one. Anyway, well done to the team and better luck next year.

I would dearly love to enter a side into the Masters League. We had one in the past but it appears that we can't get commitment from our low handicap players. We have enough talent to be there and compete, so if anyone feels like I do and would like to take on the challenge, please let me know.

Arbor Day Trophy
This was the brainchild of Harry Brews and this wonderful trophy was his design that he also paid for leaving his legacy for saving our trees. We were pleased that Lyn Brews was there to present the trophy to the winners pictured below.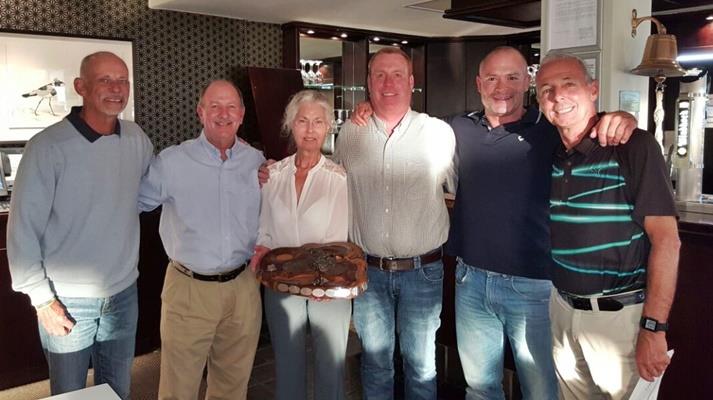 Geoff Buultjens, Dean Milbank, Lyn Brews, Brad Manson, Greg Scrace & Louis Rose


Seeff Monthly Mixed
Last Sunday was the first of the Seeff sponsored days. We thank Keith & David Colley of Seeff for their continuous sponsorship of this monthly event. As with most sports, sponsorship plays an important role, so please support their business when their services are needed. This Sunday the weather was outstanding, the course was in great condition and fun was had by all. Unfortunately, the winners were not present but pictured below is the couple who came second.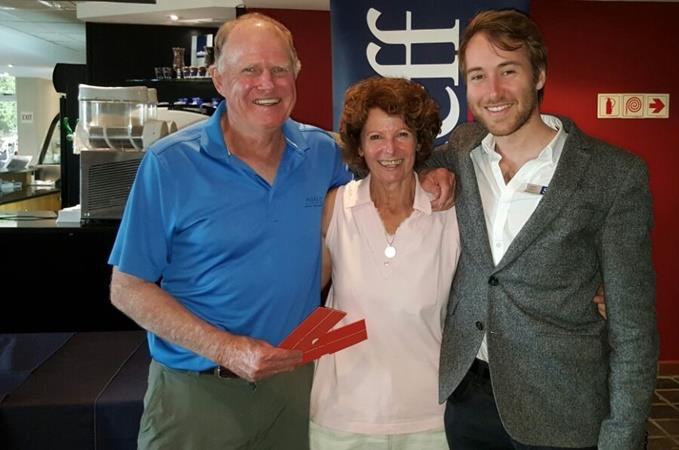 Nick Penstone, Margot Penstone & David Colley


Members Competition Days
Your committee has discussed these at length over a few months and have come to the following decision. On a Thursday and Saturday, the competitions will be split into mornings and afternoons, so the morning prize giving will be done about thirty minutes after the last players are in, and likewise the afternoon prize giving will be thirty minutes after the last players are in. This will come into effect on 1 November and last for the summer season.

In winter, we will revert to one all day competition. There are a few reasons for this decision. Firstly, as you witnessed last Saturday there were only two people out of seven winners present, and clearly this is not good. Another issue is the weather conditions between morning and afternoon that can be significantly different, giving one or the other an advantage. This will not affect any majors that will still be all day events.

Monthly Club Draw
This is proving to be ever popular, and on Friday night there was an expectant buzz in Playa's with standing room only. The attention and excitement was demonstrated by Nick Sloan who phoned me from the airport having just landed from overseas to see if he was entered and that he was on his way. All this before he even called his wife to say he was home.

The first draw at 18:00 was won by Brad Manson receiving R1,400.00. In true Brad fashion, he quickly calculated that it would get him 30 Double Jameson's. The second draw at 18:30 worth R2,100.00 was won by Brigitte du Plessis. I was on a roll with both being in attendance, and what's worse, both on the committee so the comments were flying around. At 19:00, I was not going to take the risk of pulling another committee member, or my name for that matter, so got Bill Jack to do the honours and, yes, we had a winner in the house, Shona Ferriman who pocketed R11,515.00

It was great to have all three winners in the house and the buzz was electric. I hope that this event will grow, but it will be up to you the member to make this happen. Remember, this is for your enjoyment and is only open to members of the golf club. You may bring guests to enjoy the atmosphere but they may not participate in the draw.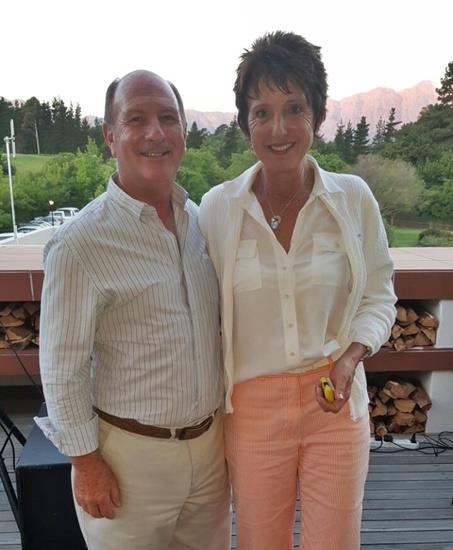 Dean Milbank & Shona Ferriman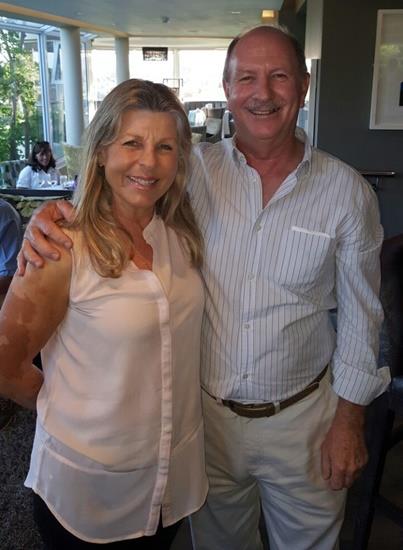 Brigitte du Plessis & Dean Milbank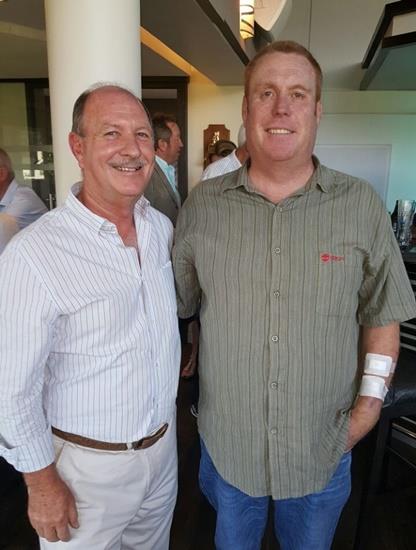 Brad Manson & Dean Milbank

Achievements of Petro Kruger in European tennis tournaments and World championships for seniors.

Petro played a key role in the South African women's over 70 team in the World Championship in Croatia at the end of September, to enable the team to finish 4th out of 12 teams in the completion. In the match against the French team (seeded no. 1) she beat the French number 1 in the singles, and with her partner also won the doubles, thus causing a major tournament upset by eliminating the French team during the play-off rounds - who were the favorites to win the tournament. Petro was also the key player to beat the Swedish team. Although Petro beat the English no.1, they lost the doubles match against England who won the competition for ladies over 70 this year.

In the individual world championships for seniors, held just after the team event in Croatia, Petro also did very well in the age group for over 70's. She reached the semi-finals in the singles and both the finals of the doubles and mixed doubles.

Competing in various senior clay court tournaments in Europe this year, Petro won various titles in the over 70 categories at these tournaments:

In July:
Cognac: Won both the singles and ladies double titles.
Bordeaux: Won the mixed doubles and reached the semi-finals in the singles.
Amsterdam: Won the ladies doubles and reached the final of the singles

In October:
Major European tournament held in Majorca: Won the ladies doubles and reached the semi-finals of the singles.

Petro is to be congratulated for these fine achievements and we are proud that she is a member of Erinvale.

Staff
There have been many new appointments so I will be sending out a separate communication in the next week with their pictures and the positions they occupy, so you will know who you are talking to. At this point, I welcome them and wish them luck in their positions and hope that they will have a long and enjoyable career at Erinvale. Please extend a warm Erinvale reception to them.

Best regards,
Dean


Pages