Newsletters
An update from the Club Captain
Tuesday, December 13, 2016 - 17:34

Greetings from Dean

Tuesday, 13 December 2016

CAPTAIN'S CHAT

Dear Members

It has been a while since my last chat so there is a lot to cover.

Many of our overseas members are back and there is a buzz in the clubhouse but having said that, I get the feeling that there are less members here at this time of the year than in the past. I trust many more will return in the new year.

Our AGM was held on Monday, the 5th December and a big thank you to all those who attended. With few questions being raised I can only surmise that the majority of our members are happy with the way things are going in the club. Having said that, I want to assure you that your committee will not be stopping here and as I mentioned in my report we will be striving for continual improvement in all aspects of the club. Your new committee has been elected and will be meeting soon to plan the way forward for the coming years. As you heard in my report we have many important projects planned and to keep you informed we will be holding an information meeting in March before all our overseas members depart.

Committee:

President Frank Mc Donogh
Captain Dean Milbank
Vice captain Willem van der Merwe
Lady captain Fiona Chandler
Treasurer Ian Pennel
Member Karin Hailwax
Member Brad Manson
Member Johan Mostert
Seconded member Nico Kooij
Seconded member Andre Geldenhuis


A big thank you to the retiring committee members, Brigitte du Plessis, Nick Penstone and especially Errol Ferriman who has served for over 14 years in many positions. Serving on the committee is not an easy task taking up many hours of personal time so to commit to that many years to the club is certainly commendable.

For those who were not at the AGM here is the story behind the new award.

Erinvale is now almost 21 years of age and in this time we have met and made friends with many individuals. Some of these people love and promote Erinvale, they have become true ambassadors of our beautiful golf course estate. After some discussion one night I suggested that we create an award to recognise these friends of ours. The result is that "The Friends of Erinvale Award" was born. The first recipients of this award are The Scotties as we affectionately refer to them. These gentlemen who hail from Stirling in Scotland have been coming to Erinvale for 18 years without fail. They love Erinvale and everything we represent, feel at home and have made good friends here. They come for at least three weeks in November and play all their golf here and feel that there is no point in playing anywhere else as Erinvale is the best experience to be enjoyed. Besides this our bar sales get a boost while they are here. The Scotties are pictured below. Tiger Bones (on the right) unfortunately can't make the trip anymore due to ill health.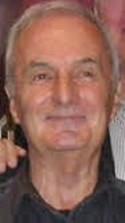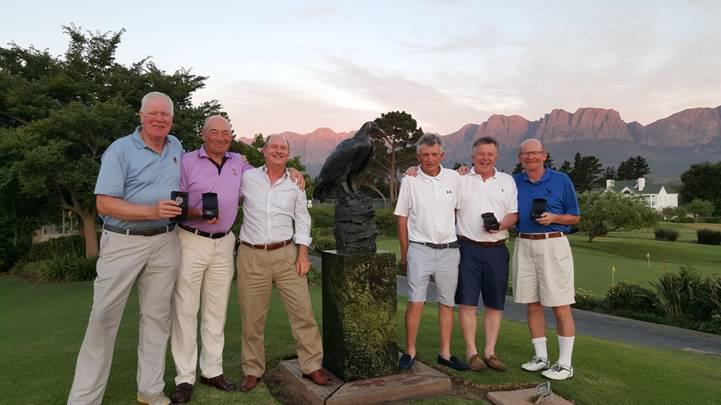 The Scotties
Hunter Fletcher, Stuart McKenzie, Dean Milbank(Club Captain), Errol Ferriman(Club President),
Gordon Robertson & Alan Rennie

Windhoek International Pairs:

On Saturday, 26th November we hosted the above competition. The top five places on the day go through to the next round and they were: Marisa & Ruggero Peroni, Roger Seymour & Patrick O'Farrel, Gerrit Kruger & Roland Greaver, Trevor Dukes & Terry Munro, Alan Bent & Allan Thirkettle.

Marisa & Ruggero Peroni won on the day with a fantastic score of 49 points that was topped with Marisa achieving a hole-in-one.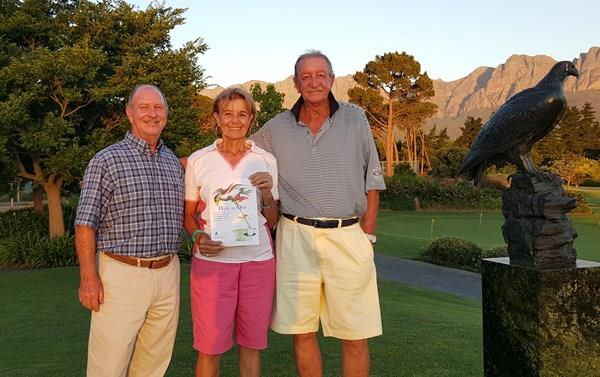 Dean Milbank, Marisa & Ruggero Peroni


Captain's Putter:
We had perfect weather in the morning but in the afternoon the wind came howling through with some serious gusts of up to 50km/hr that certainly made the golf challenging to say the least. This was reflected in the scores between the two fields. The course was in immaculate condition and the setup on the day while being a suitable challenge was fair to players of all handicaps.

In the afternoon many of our past captains played in my special internal competition which was won by Keith Colley. How fitting as it was Keith who initiated the Captain's Putter Competition way back in 1998. He was also one of only a few in the afternoon field to get into the top eight with a score of 38 points. The winner on the day was Deon Visser who had a superb round scoring 43 points, congratulations.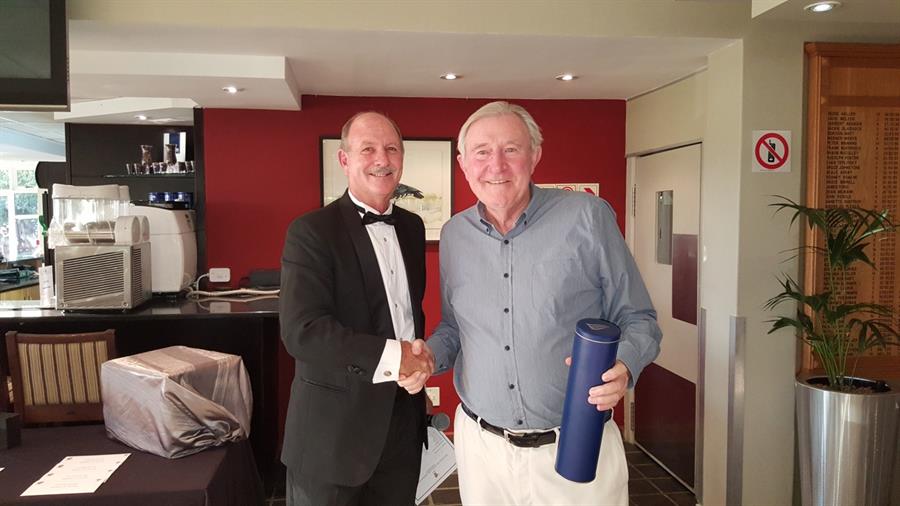 Dean Milbank & Keith Colley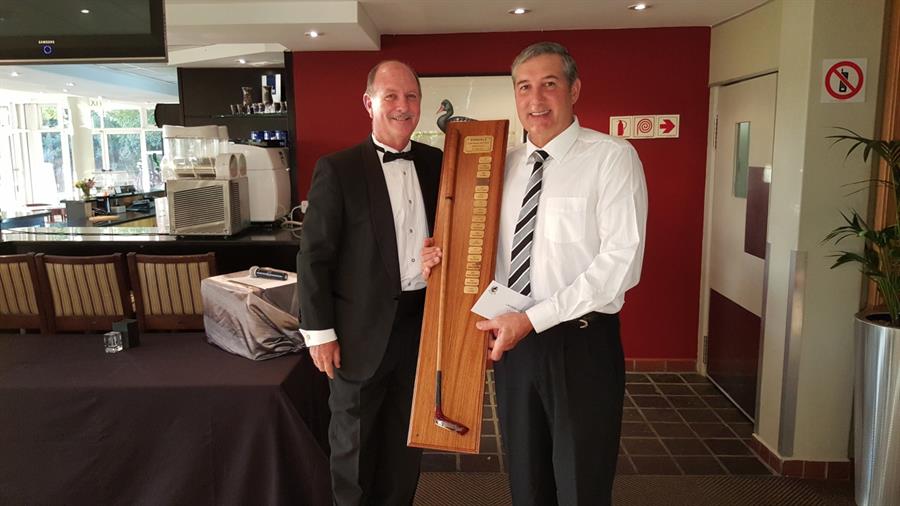 Dean Milbank & Deon Visser

Captain's Dinner:
Following the Captain's Putter we held our very first Captain's Dinner. We had a good turnout of people who came dressed for the occasion and how beautiful did the ladies look. The men not to be outdone cleaned up nicely and looked very smart in their formal suits. We added a bit of fun by wearing masks with a prize for the best couple. The theme was chic French style with singer, Danielle Pascal entertaining us with her French Café repertoire of songs from Brel, Dietrich, Piaf and Cohen. All this was well complimented by a four course menu designed by Head Chef Pierre and his team. Judging by the late hour that everyone left a good time was had by all.




Sonja Zuber & Holde Schmidt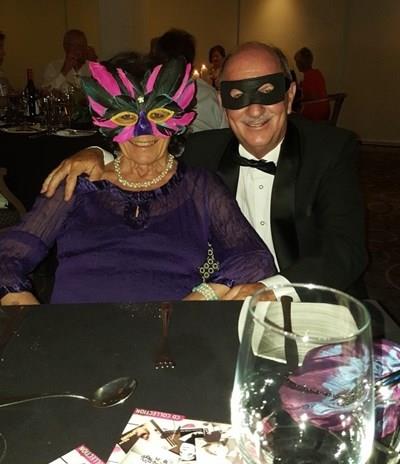 Monika & Dean Milbank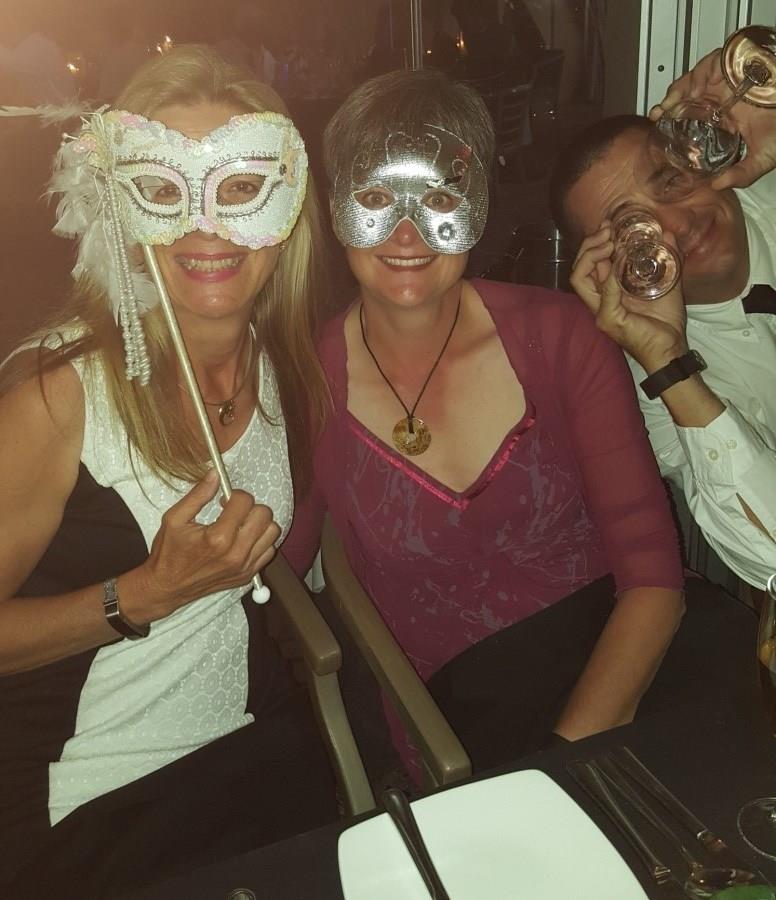 Karin Hailwax, Esmé & Willem van
der Merwe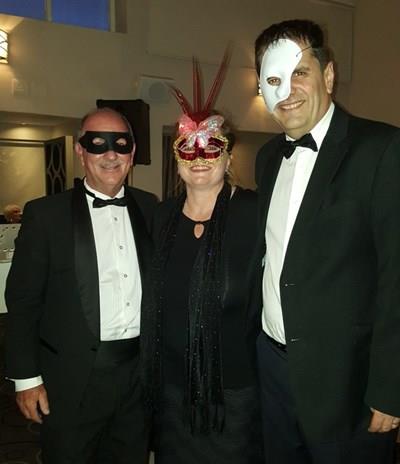 Dean Milbank, Fiona & Trevor Chandler
Best Masked Couple

Siyabulela Magadla:
How many of you remember Siya who worked under Johan Piek in the pro shop many years ago? Well this is a very good story. In 2001 Siya was working at the Shell garage in Lourensford Road where Johan met him and offered him work as his gardener for one day a week. A year later he took him to the driving range for a permanent job. He picked up a club and started swinging in his spare time. With coaching from Rae Hast and Johan he progressed so much that he moved to the bag drop area. Again he progressed well and was promoted to Head Attendant. Again he did so well that Johan moved him into the pro shop. It was not long before Johan enrolled him into the PGA.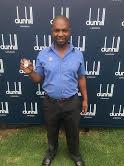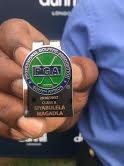 When Johan got the Club Director position at Leopard Creek he went with him. Well, fifteen years later all this hard work has paid off as Siya has just qualified as a PGA Professional. Absolutely fantastic and great to know that it all started here at Erinvale.

We need more good stories like this that make a difference for those less fortunate. Congratulations to Siya and thank you to Johan and Rae who had the passion, generosity and foresight to recognise the talent.

On this very positive note I wish you well over the festive season and look forward to seeing you on the course and in the clubhouse soon.

Best regards,
Dean




Pages