Newsletters
Captain's Chat
Tuesday, November 22, 2016 - 12:55
p.p1 {margin: 0.0px 0.0px 0.0px 0.0px; font: 24.0px Calibri; -webkit-text-stroke: #000000} p.p2 {margin: 0.0px 0.0px 0.0px 0.0px; font: 13.0px Calibri; -webkit-text-stroke: #000000} p.p3 {margin: 0.0px 0.0px 0.0px 0.0px; text-align: justify; font: 13.0px Calibri; -webkit-text-stroke: #000000; min-height: 15.0px} p.p4 {margin: 0.0px 0.0px 0.0px 0.0px; text-align: justify; font: 13.0px Verdana; -webkit-text-stroke: #000000; min-height: 16.0px} p.p5 {margin: 0.0px 0.0px 0.0px 0.0px; text-align: justify; font: 13.0px Verdana; -webkit-text-stroke: #000000} p.p6 {margin: 0.0px 0.0px 0.0px 0.0px; font: 13.0px Verdana; -webkit-text-stroke: #000000} p.p7 {margin: 0.0px 0.0px 0.0px 0.0px; font: 12.0px Calibri; -webkit-text-stroke: #000000} p.p8 {margin: 0.0px 0.0px 0.0px 0.0px; text-align: center; font: 12.0px Calibri; -webkit-text-stroke: #000000; min-height: 14.0px} p.p9 {margin: 0.0px 0.0px 0.0px 0.0px; text-align: center; font: 11.0px Verdana; color: #323333; -webkit-text-stroke: #323333} p.p10 {margin: 0.0px 0.0px 0.0px 0.0px; text-align: center; font: 13.0px Verdana; -webkit-text-stroke: #000000; min-height: 16.0px} p.p11 {margin: 0.0px 0.0px 0.0px 0.0px; font: 16.0px Calibri; -webkit-text-stroke: #000000} p.p12 {margin: 0.0px 0.0px 0.0px 0.0px; text-align: right; font: 12.0px Calibri; -webkit-text-stroke: #000000; min-height: 14.0px} p.p13 {margin: 0.0px 0.0px 0.0px 0.0px; font: 16.0px Calibri; -webkit-text-stroke: #000000; min-height: 19.0px} p.p14 {margin: 0.0px 0.0px 0.0px 0.0px; font: 13.0px Verdana; -webkit-text-stroke: #000000; min-height: 16.0px} p.p15 {margin: 0.0px 0.0px 0.0px 0.0px; text-align: justify; font: 13.0px Verdana; color: #003400; -webkit-text-stroke: #003400} span.s1 {font-kerning: none} span.s2 {font-kerning: none; color: #323333; -webkit-text-stroke: 0px #323333} table.t1 {width: 903.0px} td.td1 {width: 525.0px; margin: 0.5px 0.5px 0.5px 0.5px} td.td2 {width: 378.0px; margin: 0.5px 0.5px 0.5px 0.5px} td.td3 {width: 903.0px; margin: 0.5px 0.5px 0.5px 0.5px} td.td4 {width: 456.0px} td.td5 {width: 27.0px} td.td6 {width: 420.0px} td.td7 {width: 440.0px} td.td8 {width: 4.0px} td.td9 {width: 459.0px} td.td10 {width: 100.0px} td.td11 {width: 776.0px}

Greetings from Dean Tuesday, 22 November 2016






Greetings,

What a pleasure to see the course and clubhouse filling up again with the return of our overseas members for the summer season. There is certainly a buzz in the clubhouse and loads of good banter.

Loch Lomond
On Sunday 6 November we hosted six members from the internationally renowned Loch Lomond Golf Club in Scotland. These gentlemen were out on a two week golfing tour and played many of our great Cape coastal courses from The Links to Pearl Valley. I am proud to report that to a man they said that Erinvale was one of the best if not the best course they played and would all come back here again. They said that we offered the complete package from the golf course, scenery, tranquillity, hospitality and of course the magnificent sunset they experienced from our Playa's bar. We had a team of Erinvale members play against them in a friendly on the day. Pictured below is their team.




Friday saw the last of our big corporate days, CTP, who have been with us for many years and one we appreciate not only due to its member links but because they contribute significantly to Erinvale. Not only do they spend a lot of money with us on the day they also print our club diary so a big thank you to CTP, we really appreciate your commitment to Erinvale and look forward to many more years hosting your event. The last two corporate days of 2106 are smaller events but have been held at Erinvale for many years and are also linked to members. After these two there are no corporate days until the middle of March. I know some members are not happy with us hosting corporate days but they do contribute significantly to keeping your subscriptions down and have a very positive effect on the club's liquidity.

On Sunday 13 November we had the final round of the Winelands Estate Challenge that was held at Steenberg. This is a friendly competition that was started four years ago between De Zalze, Erinvale, Pearl Valley and Steenberg. The aim was to forge good ties and camaraderie between these clubs as they share common interests. Later Arabella was added. It was the brainchild of Pearl Valley's Pete Richardson who was keen to get the various club's office bearers and committee members together to share ideas and experiences. Each club gets to host the other clubs each year. Teams are made up of eight men and four women and is played as a better ball stableford. All the scores are added up and at the end of the last round the club with the most points wins the trophy. This year Erinvale competed well and finished second to Pearl Valley, our highest placing in the competition ever. Well done to those players who made themselves available throughout the year. Good luck next year.


On Saturday 12 November we held our fun competition Snobs vs Slobs. For those new members this was started way back in 2000 and was a competition between those members who lived below and above the clubhouse. It is held on a Saturday when the competition is Individual Stableford and all that happens is we average out all the stableford scores and the group with the highest average wins. Two years ago it was felt that this should be extended to include our non-resident members who won it last year. No name has been given to them so this year just before prize giving I asked around the non-resident members if they could think up a name for them that would rhyme with the initial trophy. Someone came up with Sods (nothing derogatory, more salt of the earth stuff?). Being a democracy I asked for a show of hands for acceptance and it was approved.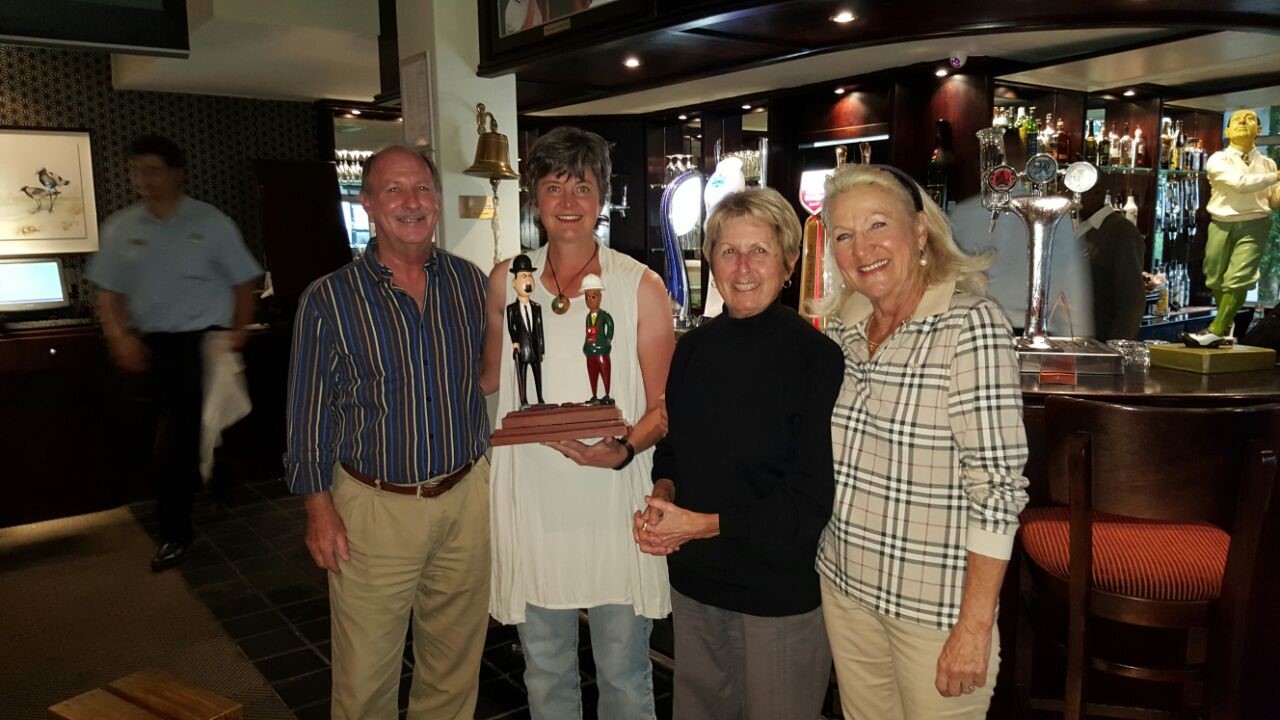 Dean Milbank, Esmé van der Merwe (Sods Captain), Nanette Booysen (Snobs Catain) & Lilo Wood(Slobs Captain)


This year the three Captains were our ladies pictured above and the winners were again the Sods. It was all very tight until the last few cards came in giving the Sods a narrow 1 point average victory, congratulations.

This last Saturday was our first major, the World Cup, Commemorative Cup. This competition and trophy was presented by David Gant, the developer of Erinvale in 1997. This is the event that put Erinvale on the world map. One week of worldwide TV coverage showing off the talents of the best golfers from 22 countries challenging for the coveted World Cup of Golf. The fact that it was held in SA for the first time and at a new, less than two years old, Erinvale Golf Club was due to the efforts of Gary Player who designed the course. He convinced the organising committee to bring it here and that it would be a challenge was a stroke of genius. The cherry on the cake was that it was won by Ernie Els and Wayne Westener on a record winning 20 under par (combined medal). Today we are what we are due in large to this event. It created an international demand at a time when there was huge uncertainty about the future of the country and not many people were investing in property in South Africa. I guess the rest is history and we should continue to celebrate this event. It was a beautiful sunny day but as the day wore on so did the wind that certainly played a hand in players not posting record breaking scores. The course was in magnificent condition considering the drought we are facing and with high winds each day for the last week drying it out. Pictured below are two members of the winning team who triumphed with a score of 89 points, congratulations.

One of the fun features of this tournament is that teams select a country to represent and dress accordingly. Unfortunately this year it was not well supported so we need to rethink this for next year. Having said that there were two teams that made an effort, being the Swiss and the South African Teams. For their efforts both teams were given bottles of wine. Pictured below is the South African Team.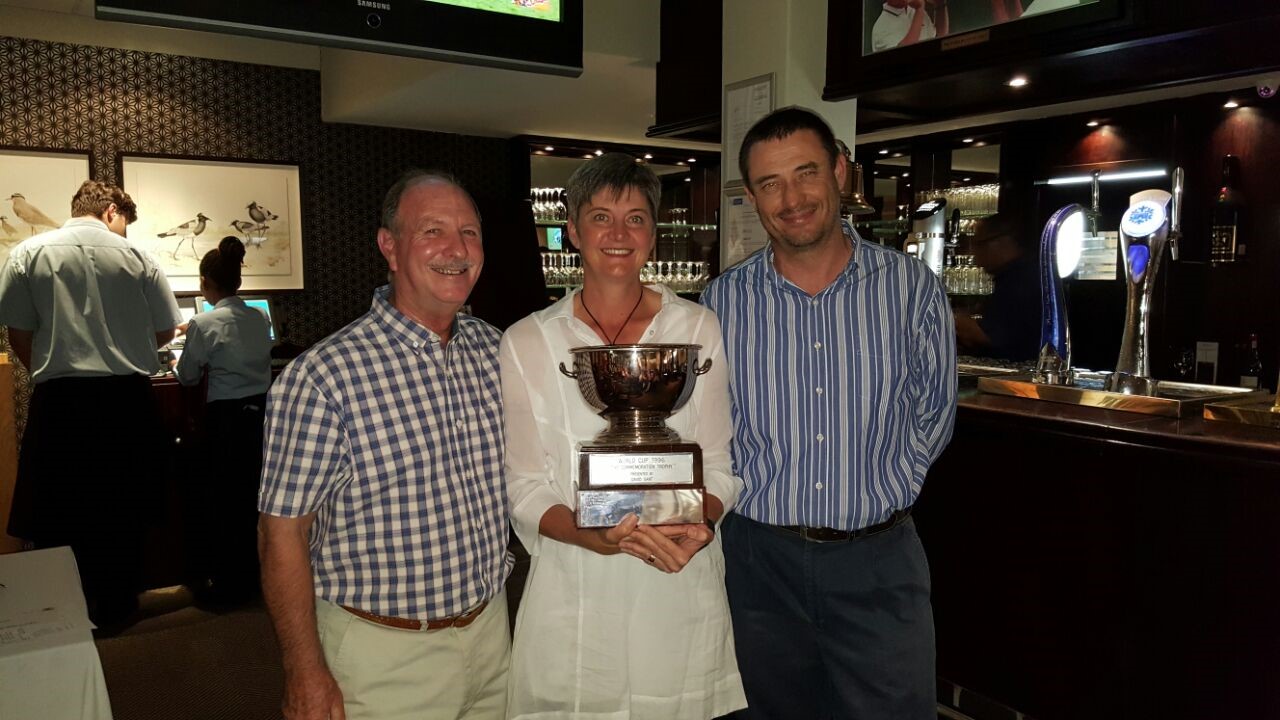 Dean Milbank, Esmé & Willem van der Merwe,
David & Angela Brunt (Absent)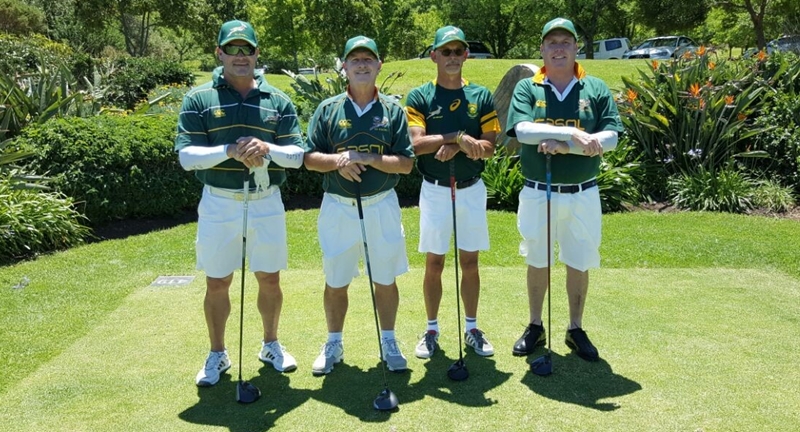 Greg Scrace, Dean Milbank,
Geoff Buultjens & Brad Manson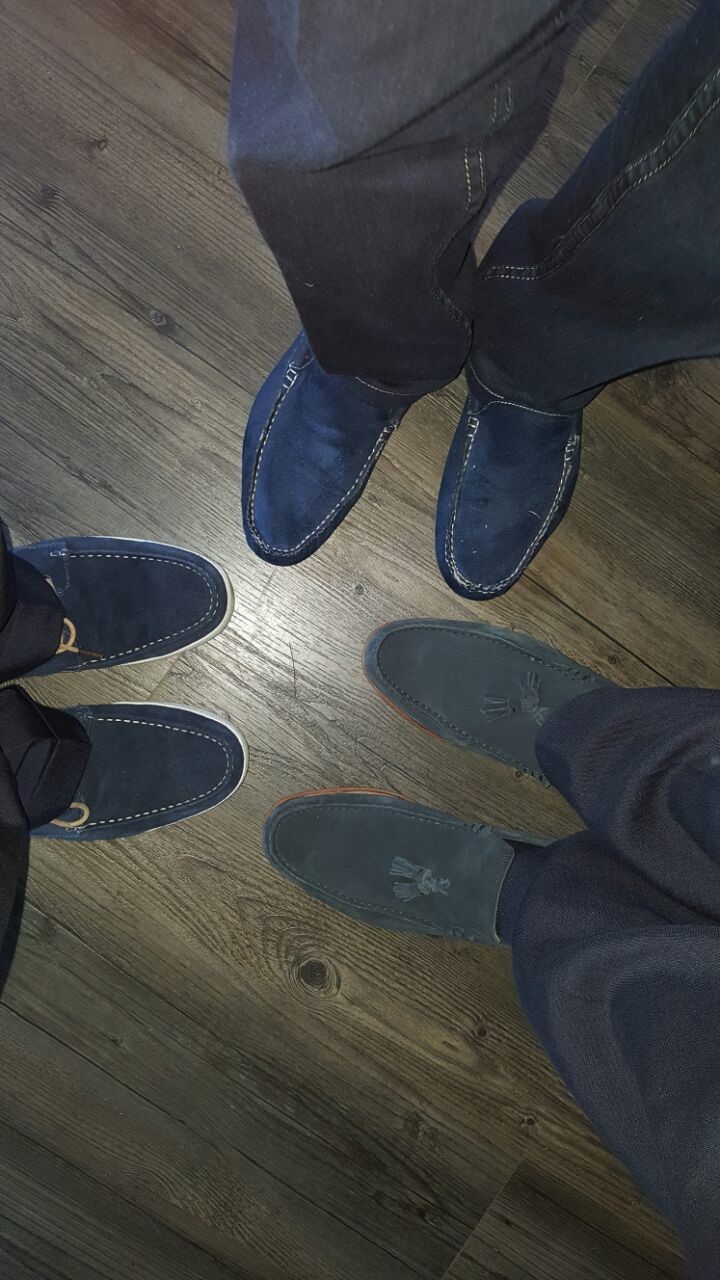 It seems Elvis' Blue Suede Shoes are back in fashion as these three wannabees were seen having drinks in the Playas Bar on a Friday night. No prizes for guessing who these feet belong to, but have a go!






Friday 25 November is the next club draw so join us in the best pub in the Helderberg for drinks and the excitement of the draw. Remember to get your name into the draw by paying in your R100.00 at reception by the latest 17:00 on Friday. Stay on afterwards to sample Head Chef, Pierre's new menu with a bottle of superb wine from our list.

Monday 5 December is our AGM. You are encouraged to attend as it is your opportunity to hear about the status of your club. Future plans/proposals will be tabled for discussion. New committee members will need to be voted on to serve you for the next period. It is also your opportunity to raise any issues you feel need addressing.

Saturday 10 December is the next major competition, The Captain's Putter. This is an individual stableford competition. It's an all-day event and please remember it is for members only. In the evening we are hosting our very first Captain's Dinner and I hope that many of you will attend. It promises to be a fun evening with a French flair based on the war years styled Café' restaurants featuring Danielle Pascal singing songs of the era such as Edith Piaf, Jacques Brel, Marlene Dietrich to name a few. Enjoy a fabulous four course menu of French cuisine designed by our very own Head Chef, Pierre. Please book early to avoid disappointment as this is going to be a night to remember.

Cheers for now
Dean




Pages