Newsletters
An update from your Club Captain
Sunday, February 12, 2017 - 08:28

Greetings from Dean Sunday, 12 February 2017

Greetings

Firstly happy new year to you all. I trust that 2017 will be good to you and your families. To all our returning overseas members, it's good to see you back on the golf course. Apologies but this is going to be a long one with so many events since my last communication.

I write this captain's chat from forty thousand feet as I fly to Johannesburg and have just had a bird's eye view of our magnificent golf course. It shouts out to you, come play me and enjoy my stunning views. We are truly blessed to be members of this magnificent golf estate.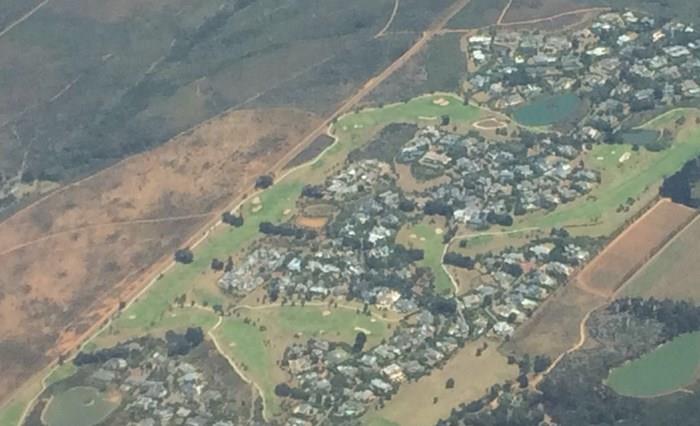 What a start to the year with the horrific fires that have surrounded us. The devastation and losses to land and property are tragic. The smoke and ash that hung over Erinvale for days was daunting and a concern to some of our members who took their own precautions, see picture on the right.

Thankfully Erinvale suffered no damage and we have the brave fire fighters and helicopter pilots to thank for that. I sincerely hope that this will be the last we will have for this summer but I fear that we still have February to get through.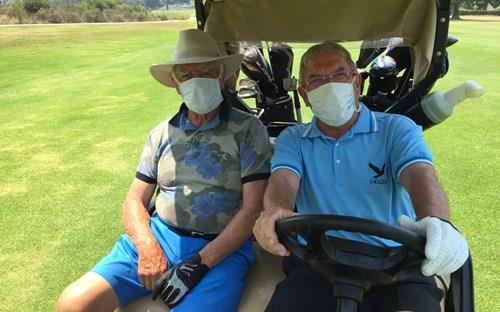 John Wood & Franz Seibold

The drought is another major concern as without water the golf course will shrivel up and die. Luckily we sunk that new borehole behind the 13th which is producing very needed water. Greg has done a brilliant job in managing this valuable resource and at this point we are in better shape than last year so we trust that we will have enough to see us through to the winter rains. Having said that a few of the fairways are showing signs of stress but we are managing it as best we can.

Erinvale boasts many wonderful and talented people and one such person is our very own Captain Ian Merriman. There is an article that was recently published in the newspaper honoring him that I urge you to read. For those of you who do not know him, he is the Captain of our largest tug boat and is called to rescue stricken ships. Most times in very tough weather conditions. So why the article you ask? Well Ian has just completed his 100th rescue mission spanning 45 years. This is a remarkable feat that is not likely to be equaled let alone passed. Congratulations Ian, your dedication to duty no matter the danger is worthy of more than the article. We salute you and are proud to have you as a member of our club.

New Year's Day:
What a day! Stunning weather and a full field that ensured that fun was had by all. It was very festive on the deck after the 9-hole game. This event is becoming more popular by the year which is great news. It is a fun event and a good way to usher in the new year. On the day it was the Harts' who triumphed to walk off with the trophy. Congratulations and see you all next year.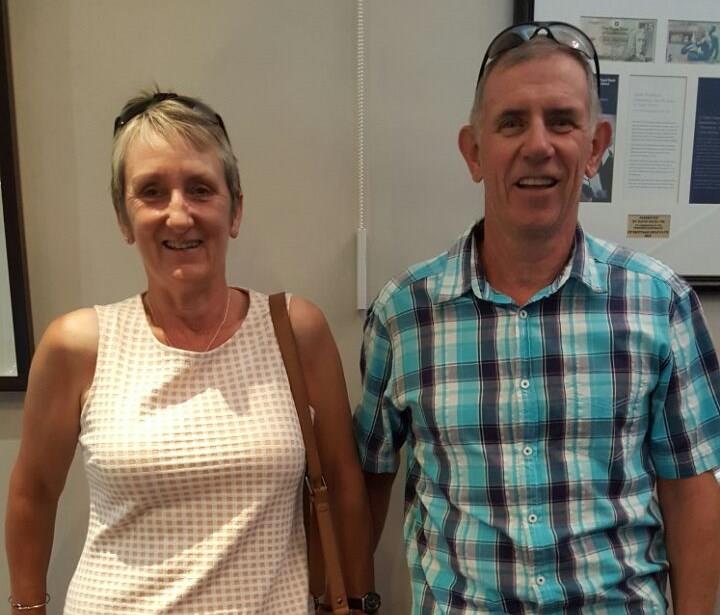 Jane & Rob Ryan Monthly Club Draw:
It was wonderful to see the turnout for the January Draw. There was a good buzz in the Playa's Bar with members mixing with friends and enjoying the stunning summer sunset. The drinks and snack baskets were being enjoyed while expectantly awaiting the draw to hear if they had won. The 18:00 draw worth R1,060.00 was won by Barry Hannam and the 18:30 worth R1,590.00 by Jimmy Flynn. The final 19:00Must-Be-Present-Draw worth R8,900.00 was won by Rob Ryan who was very happy to be present.

Congratulations to the winners. If you also want to be a winner then be sure to enter by paying your R100.00 at reception before the last Friday of February and then of course come down to enjoy the fun.

Ladies League:
On Tuesday 24 January our ladies A-League team got off to a winning start when the defeated Durbanville 4-2 at Clovelly GC. Great win and here is to continued success for the rest of the season. We are proud of your achievement.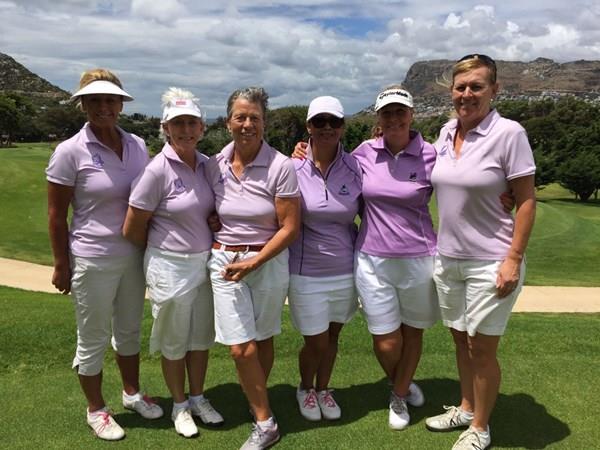 The team pictured below is from left to right. Ria Houben, Lorraine Rimmer, Brigitte Dedekind,
Josie Greaver, Talli de Wet (Captain) and Sue Clarke.

Club Championships:
First we need to congratulate and give thanks to our greenkeeper, Greg Leckie and his team, who managed the tough conditions superbly to deliver us a championship golf course in superb condition. The greens were quick and running true. Not that I am biased in any way but Erinvale has to be the best conditioned course in the Cape and certainly in the top group country wide.

Thanks must also go to our Tournament Director Ryno Rudolph for a well-run championship. He was well supported by Morné Oosthuizen and his entire team and our thanks go to them as well.

Thanks to Barend Lindes, Pierre Fourie and their teams for a well-run clubhouse over the weekend and the wonderful snacks at prizegiving.

Saturday started out overcast, cool, and drizzely with a good breeze that actually made the playing conditions pleasant. Cleared up in the afternoon but as usual the breeze picked up making it a fair challenge.

Sunday dawned bright and clear but with a strong SE blowing the day was always going to be tough and so it proved with even our very best players struggeling to keep the ball on the course and hole 17 proving to be a game breaker.

Very pleasing to me was to see how well our juniors are playing with Megan Streicher in the ladies and Luke Pienaar in the men's last flights on the final day. I can see our junior section growing and soon competing for Erinvale in the WP leagues.

We had a very exciting finish to the championship with play-off's to decide the B Division Champion that was contested between Lucien de Kind and Stuart Downes. Lucien took the honours on the first play-off hole. Then on to decide the Club Champion with a play-off between Daniel Gross and Phillip Taberer. With the deck and 18th green full of spectators we decided to just play the 18th until a winner was decided. This was great as it created a wonderful vibe and grandstand finish. Well, what a grandstand finish it was with the two having to shoot it out for three extra holes. We were priviledged to witness some huge drives and wonderful approach shots into a tough 18th pin placing. In the end it was a superb second that Philip put to within two metres to snatch victory with a birdie and record his very first Club Champion title.

The ladies competition was quite exciting with four tied in the lead after day one. There was also a very notable performance from Margot Penstone who was only one off the pace proving that not only the top low handicap players have a chance to compete, well done Margot. Day two with the high winds certainly played its part and in the end Vikki Trautran out a comfortable winner to be crowned Ladies Club Champion for the third year running. The Bronze Division winner was Chrissie Runge. Well done to all the winners over the weekend.

Congratulations to all the winners pictured below.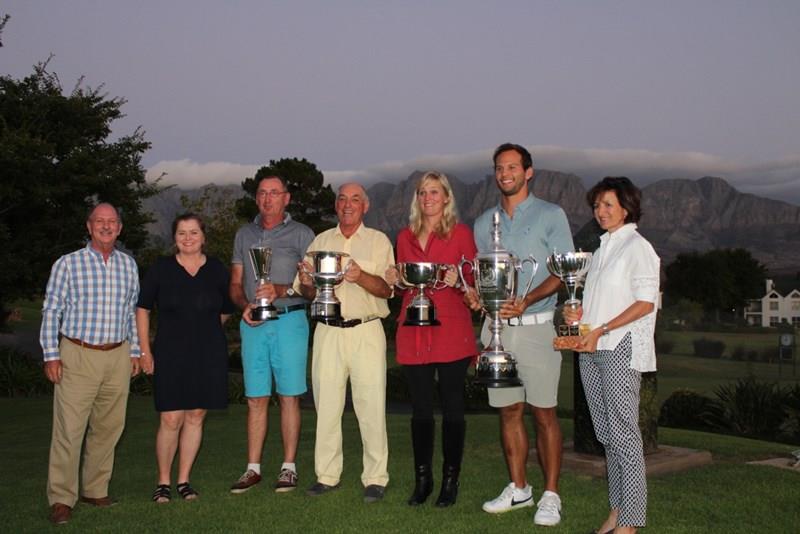 Dean Milbank(Captain), Fiona Chandler(Lady Captain), André Marien, Lucien de Kind,
Vicky Traut, Blair Taberer & Chissie Runge

Age is not an issue:
On Thursday 29 December 2016 Bernie Wurr and Don Nash with a combined age of 168 won the competition with a fantastic BB score 47 points. I wonder if that is some sort of record? Who says you can't keep playing and competing when the numbers creep up on you? That is the wonderful thing about golf and probably the only sport where all ages and handicaps can compete on an equal footing. Well done gentlemen, long may it continue and I want you in my team.

Happy golfing
Dean


Pages