Newsletters
Greetings from Erinvale 23 September 2015
Wednesday, September 23, 2015 - 14:52

CAPTAIN'S CHAT

Welcome to spring and the wonderful sunshine, which has helped the golf course recover quickly from annual hollow tining. While we may bemoan the lack of winter & spring rainfall the flip side was the record number of rounds (both members & visitors) played on our course during winter – an unexpected boost to the Club's year-end financial well-being.

Many members have commented positively on the vast reduction in the number of Egyptian Geese on the golf course. Reducing the number of geese, and keeping the numbers to a minimum considering the geese breed twice a year, is a major challenge.

According to Grant Webster, a keen golfer and an avid bird watcher, a spinoff of the reduced numbers of geese is that other bird species seem to have started to move back onto the Estate in greater numbers.

Grant said he recently spotted Spoonbills in the dam below the clubhouse as well as Herons, Cormorants, Yellow Bill Ducks, Spurwing Geese, Darters and at least 3 different Kingfisher species. There also seems to be more breeding pairs of Blacksmith Lapwings (Plovers) and he knows many members have seen the juvenile African Harrier Hawk (Gymnogene) flying above the course with its parents. Grant said other sightings include Double Collared and Malachite Sunbirds, Cape Sugarbirds, Speckled and Red-faced Mousebirds, Cape Spurfowl and Bulbuls.

Not only are our fairways, tees and greens devoid of the unsightly and damaging mess made by the geese – the environment is returning to its natural state prior to the invasion of these vermin.

Condolences
On a sad note, one of Erinvale's Honorary Members, Rowan Haarhoff passed away last Saturday. One of the Club's great characters, Rowan played a major role in developing and nurturing horticulture throughout the estate and golf course. Our condolences to Rowan's wife Velda, his family and friends. May he rest in peace.

Congratulations
I'm delighted to report that Erinvale's Director of Golf, Gavin Woodroffe, has been voted the Club Pro of the Year for the Western Cape. The award is voted on by Gavin's fellow PGA members. Some of the criteria include how professionals represent both themselves and their clubs as role models and ambassadors for the PGA, as well as service levels, integrity and development of the game of golf. Gavin will compete against his fellow regional winners for the national award.

Congratulations also to the Pro Shop's JP Cawood who competed in the World Transplant Games in Argentina last month. JP returned with two Gold Medals – individual gold and team SA gold. Well done JP.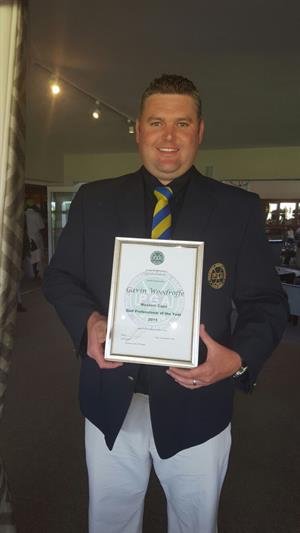 Gavin Woodroffe

Handicaps
If you are a member of a second golf club, either overseas or in South Africa, this communication is for you!

The South African Golf Association (SAGA) does not allow any player to have two handicaps.

For example, a handicap for when you play overseas and a handicap for when you play in South Africa (See below - Rule 11.8 of the South African Golf Handicap System).

This is a SAGA rule, not an Erinvale rule and as a member of SAGA Erinvale is compelled to enforce this rule.

Erinvale members who fall into this category (a member of two clubs) must play off their SAGA handicap provided they have entered their foreign scores on the SAGA system via the Internet or manually in the Pro Shop upon returning to South Africa.

Failure to do so will result in a handicap been frozen (and therefore ineligible for competitions) until such time that the player has played and entered at least 5 local rounds.

The rationale behind this rule is that a players' handicap must reflect his/her recent scores.

For example, if you enter 20 rounds played while you were overseas the best 10 scores will be used to calculate your handicap. If you enter a lesser number of rounds, these scores will be added to the previous scores in your handicap profile on the SAGA system.

Your co-operation on this matter will be appreciated and a new process has been implemented to ensure that all members comply with the SAGA handicap system.

Further details or clarification can be obtained from Gavin Woodroffe or the Pro Shop.

11.8 Foreign Players with SAGA and other handicaps

Players who carry temporary or permanent membership of a local golf club and who are also
simultaneously members of an overseas club that has allocated them a handicap (or handicap index)
shall play off their SAGA handicap. This is provided that they have entered their foreign scores on the
SAGA system via the internet, or through their South African club administrator, on arriving back in
South Africa. Failing this their SAGA handicap should be changed by the club to N/A until such time
as they have played and entered on the system, at least 5 new local rounds. Alternatively the Club
administrator may make temporary adjustments to the players SAGA handicap to as accurately as
possible represent their current playing ability until such time as 5 new scores have been entered.
Where the foreign handicap is lower than the SAGA handicap due to the foreign scores not having
been entered and the club administrator is not able to adjust the players SAGA handicap to represent
an equivalent handicap to their overseas handicap, then the player shall play off the lower of their
SAGA or overseas handicap.

Frank Mc Donogh
Captain


DIRECTOR'S REPORT





Click to enlarge National Heritage/Braai Day
Join us this Thursday for a delicious braai to celebrate Heritage Day! For just R140 a person you can enjoy a delicious meal with great people! Members' discount does apply.

Click on the poster to see more details.

Congratulations
Congratulations to Ria Houben, on becoming Club Champion 2015, at Crossmoor Golf Club in the Netherlands.

The championships were played over 54 holes, with 36 on Saturday and 18 on Sunday. She ended up winning by an incredible 10 shots.

Congratulations and we all look forward to celebrating with you upon your return to Erinvale.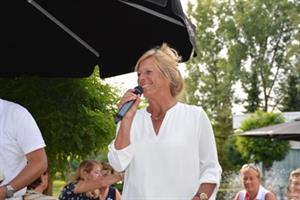 Ria Houben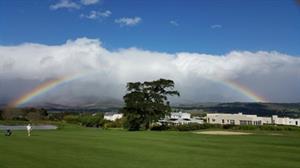 Picture of the week
Our picture of the week was taken by Dean Milbank.

What a stunning rainbow over the course!

If you have any pictures of the course you would like to send in please email us.

Members Caught in Action!
This week's 'member caught in action' is Christie!

Pictured here is Christie caught in action...... A little off line.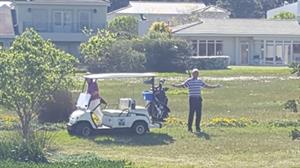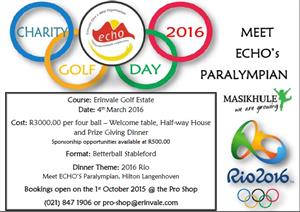 Click to enlarge
ECHO 2016
They say time flies when you're having fun and to think we are about to launch the ECHO Golf Day 2016, is remarkable.

This year we have changed the process a bit. This year the Golf Shop will be taking the bookings, which open on the 1st October 2015, and as things go every year it is a very popular event so please don't leave it too late to enter.

Click on the poster for more details.

Srixon Demo Day
Join us for the Srixon Demo Day on 1st October from 11am until 1pm.

Come and have a look at what Srixon has to offer! They will have their new Z range drivers and irons on show and to try out.

Click here to book your spot.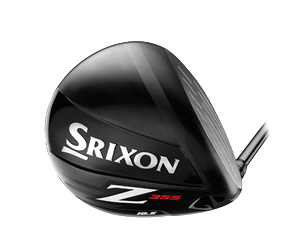 Z355 driver


RUGBY WORLD CLUB 2015

Here are some photos from last week's rugby!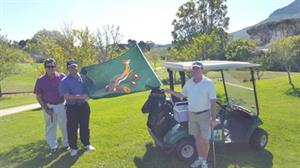 Ian, Ivan and Peter getting in to the
spirit for the World Cup.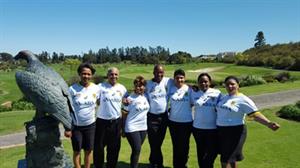 F&B Team all ready for the World Cup

Come and watch the rugby at the clubhouse!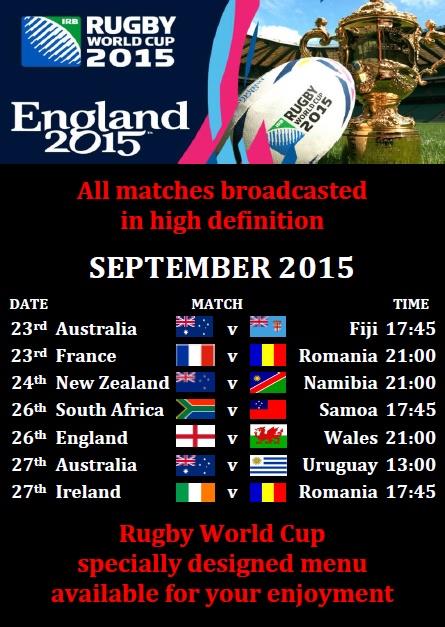 Regards,
Gavin




Pages