Newsletters
Captain's Chat
Friday, April 28, 2017 - 17:10

Greetings from Dean Friday, 28 April 2017

CAPTAIN'S CHAT

It has been a while since my last chat so this will be a bit longer. Winter is supposed to be on the way but judging by the weather we have been enjoying it is very late in arriving. This is not good news as the winter rains we so badly need have not materialised. The golf course is still in great condition and we have our fantastic greenkeeper, Greg Leckie, to thank for that. We are managing our water resources as best we can but there is only so much we can do without the rain. Having said this we had a wonderful and welcome rain on Wednesday. Hopefully this will signal the start of our rains.

The only thing that is on time is the departure of our overseas members and this is noticeable by the reduced fields and buzz in the clubhouse. We wish you well, safe travels and look forward to your return in summer.

COMPETITION NEWS
Foursomes Trophy:
After much discussion and confusion this event turned out to be a great success. Yes, there are those who do not like the format but there are many that do and it makes a change from the formats we play all too often. There is lots of talk about making golf more fun and this is certainly one format that is fun. I did not get any feedback of any divorces so everyone must have had fun. The shotgun start for the morning and afternoon sessions was great and that allowed us to have lunch together and share war stories of the mornings game. Chef prepared an outstanding lunch as I saw many going back for seconds. There's been some requests for the recipe, always a good sign. The finish was closely contested and we had to go to a countout to determine the winners. In the end, it was Josephine Greaver and Patrick O'Farrell who walked away with the trophy. Following are some of the interesting places your partner can put you in.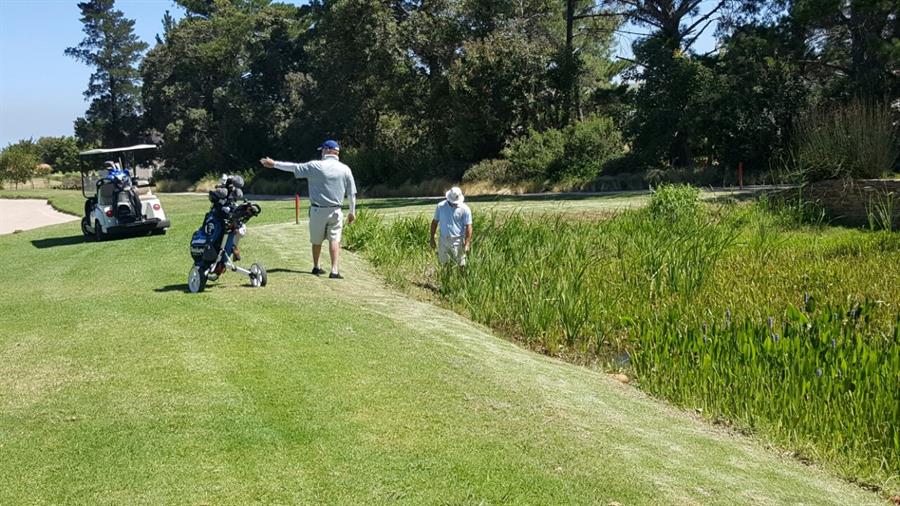 Greg Scrace being directed back to the 1st green by his partner Brad Manson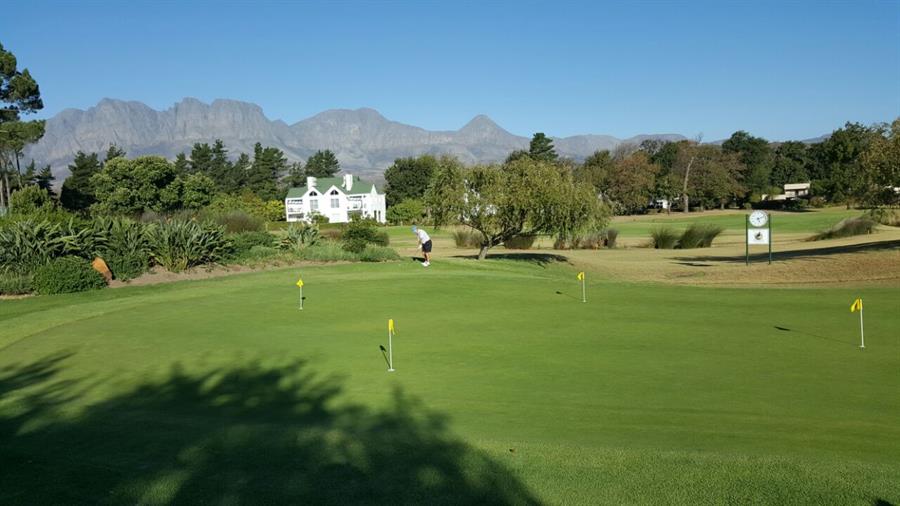 Dean Milbank trying to get back to 18th green from over the putting green

Commemorative Cup:
This trophy was initiated in 2005 to commemorate our club's 10th anniversary. It has been played for ever since and now is one of our majors. The day started out with perfect weather and the course is in top condition but then the Cape weather came to spoil the fun with very high winds so the afternoon field had a struggle to keep the ball on the golf course. Be that as it may, it was a very successful day with the winners, pictured below, from the morning field winning with a good score of 90 points. Well done to Sean Coull & Vito Polo.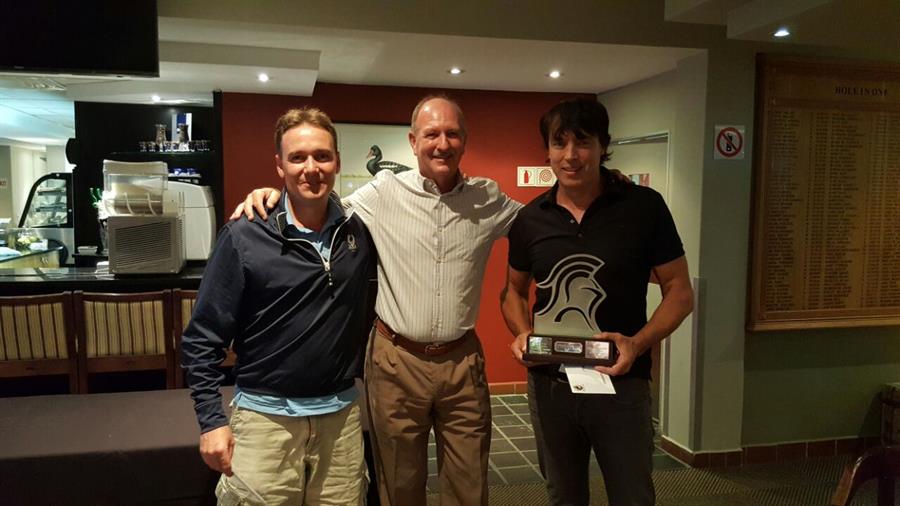 Sean Coull, Dean Milbank (Captain) & Vito Polo

St Patricks Day:
This was another very successful day with most of the field dressed in green making it festive. The weather was great and the golf course in superb condition. At the end of the day upstairs we all went for the prizegiving and music to dance the night away. The place was beautifully decorated with green and orange balloons. Pictured below are the winners Johan Kapfer, Jutta Kapfer, Siggi Konrad & Sonja Zuber receiving the trophy from Marie Cooney & Dean Milbank (Captain)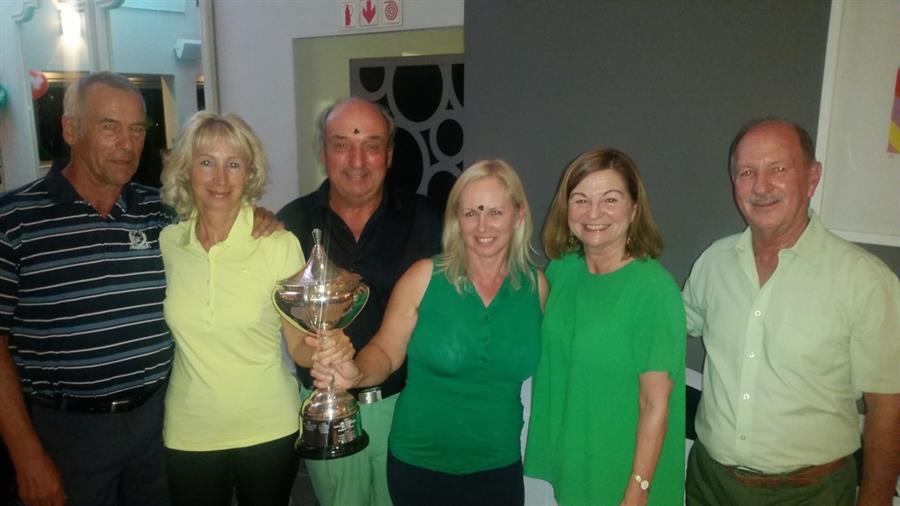 Johan Kapfer, Jutta Kapfer, Siggi Konrad, Sonja Zuber, Marie Cooney,
Dean Milbank (Captain)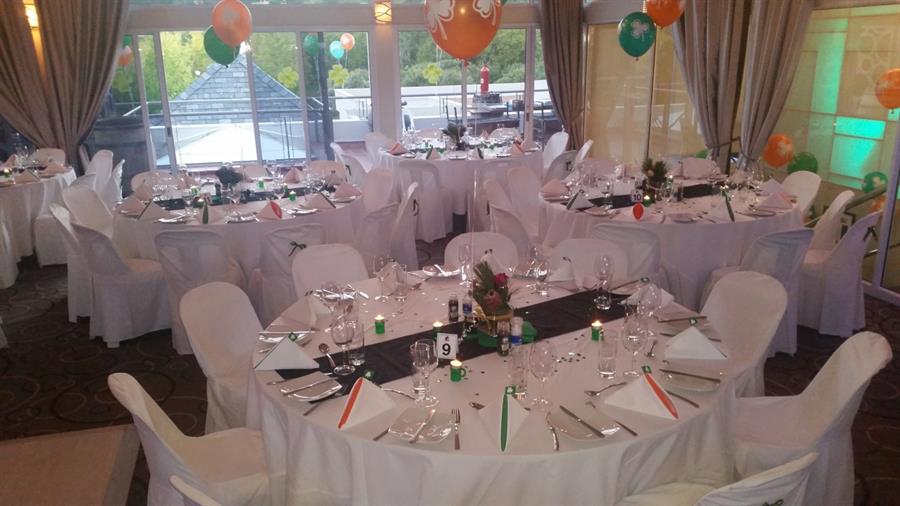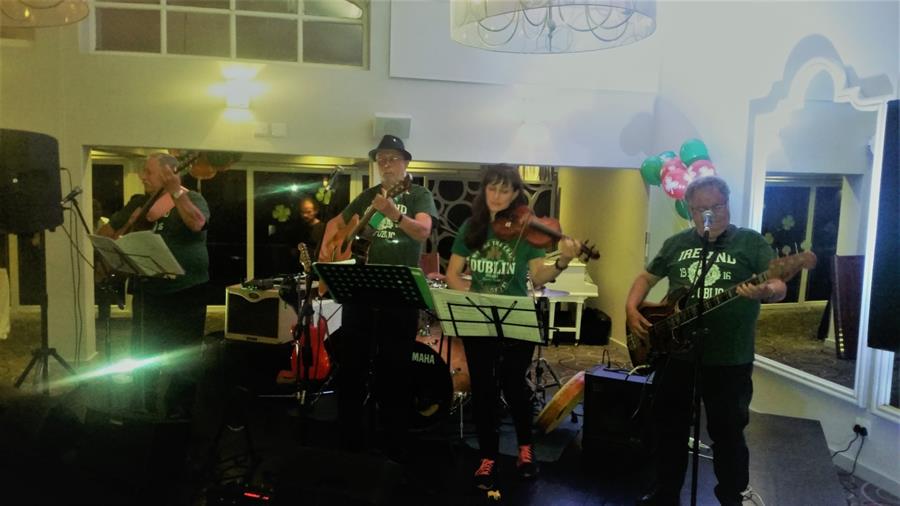 International vs Locals:
This annual competition is held on the day we play an individual competition and all the scores of the international and local members playing are added together and averaged out to decide on the winner. This year it was closely contested with the locals edging out the internationals. Pictured below are the two captains on the day.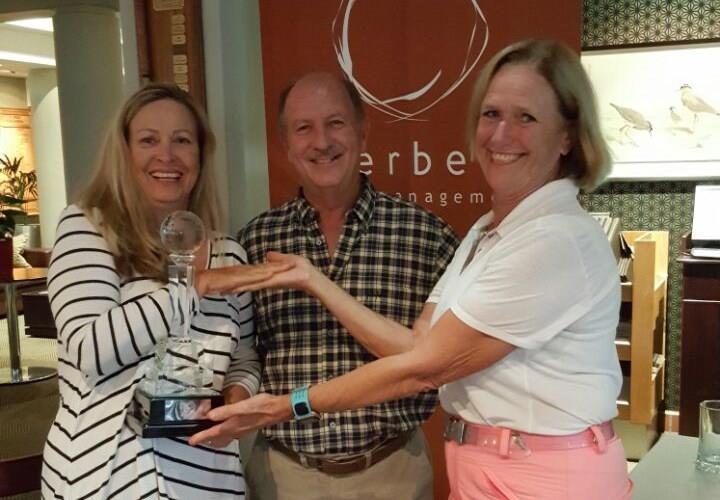 Talli de Wet (Locals' Captain), Dean Milbank & Angelique Meijer
(Internationals' Captain)

LADIES GOLF

Ladies League:
Our ladies league is flying high and to date have not lost a match this season. I stand to be corrected but this is the best performance by an Erinvale league side. Well done and keep up the superb performance. We are all very proud of your achievement.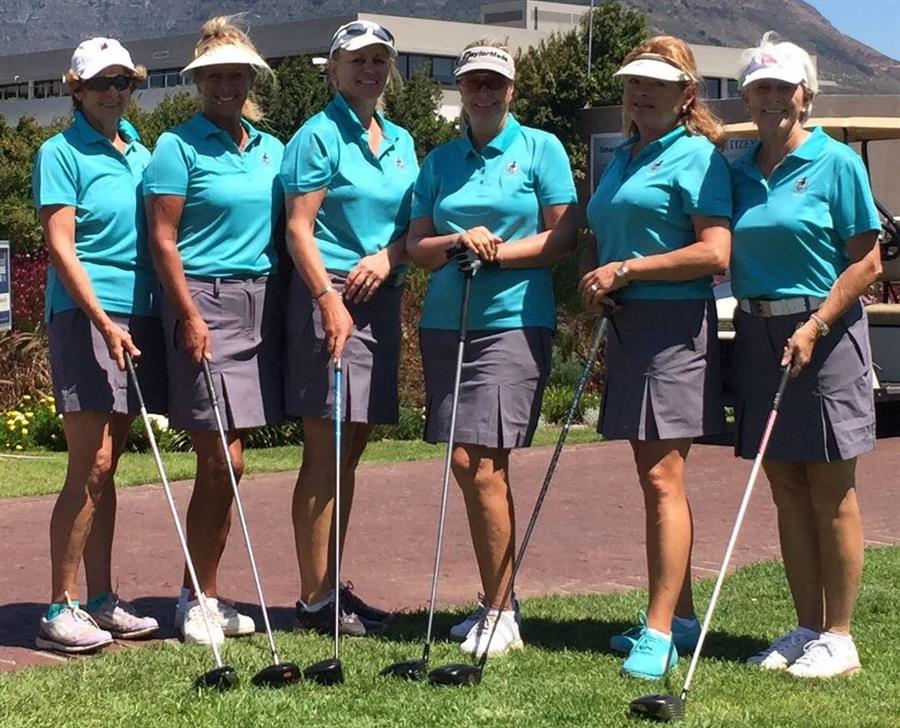 Margot Penstone, Ria Houben, Sue Clarke, Talli de Wet,
Monika Klier & Loraine Rimmer


Regional All-Africa Challenge Trophy:
Sarah Bouch, Zethu Myeki, Lumien Orton and Vicki Traut arrived home buoyed by their combined efforts to promote golf development in Southern Africa while defending South Africa's proud record in the Regional All-Africa Challenge Trophy (RAACT) in Lesotho two weeks ago. South Africa has won it for twelve consecutive years.

Team captain Traut from Western Province (Erinvale) posted scores of 70, 81 and 79 to finish sixth overall in the Individual Competition. Traut said the team felt that they got more out of the championship than they bargained for.

"Due to three of the top ranked players competing in the Nomads SA Girl's Rose Bowl, Womens Golf South Africa decided to send Zethu, Sarah, Lumien and I to Lesotho," said Traut. "We were fired up to defend South Africa's title, but when the other competitors approached us, we also saw an opportunity to give back.

"Zethu helped some of the girls with their putting, we taught some players how to use stroke savers, Sarah showed the ladies how to write up the team scoreboard and she even helped the lady doing the official photos to set up her camera."

"We are so thankful that we were given this opportunity, because we got so much more out of this experience than simply travelling to Lesotho to defend the title."

This is what golf is all about and these ladies can be proud of their achievement and contribution. Well done Vicki, you have done Erinvale proud.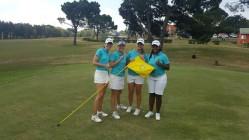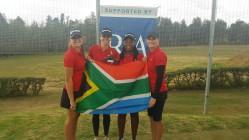 COURSE NEWS

Hollowtining:
This very necessary procedure that we do twice a year during May & September, to ensure that our magnificent golf course is kept in pristine condition. This year it will be taking place from 8 – 12 May. Obviously the course will be closed to enable the grounds staff to complete it in the shortest possible time without disruption.

Please note: During this time the clubhouse will be closed for cleaning, maintenance and staff education. Apologies if this causes any inconvenience but is very necessary.

UPCOMING EVENTS

Saturday, 6 May- Harry Solomon League 1st round

Saturday, 13 May – Desert Classic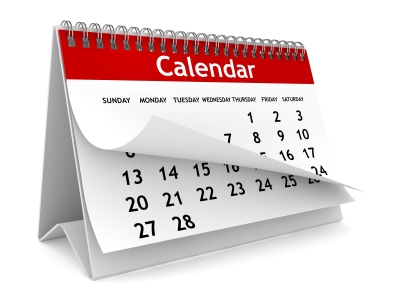 That's all from me for now. Happy golfing.
Dean






Pages