Newsletters
Captain's Chat
Tuesday, June 27, 2017 - 13:56

Greetings from Dean Tuesday, 27 June 2017






Winter seems to have arrived and we were subjected to a hectic storm this last week. There was rain thankfully, but it was not a lot. It was the very high winds that did all the damage. Two big trees along the 6th fence and two big Oak trees on Erinvale Avenue were literally snapped in half. Not to mention many other trees on the course and surrounds that were up-rooted. We have recorded 108mm of rain in June so far which is below par but better than May where we only had 15mm of rain in the whole month against an average of 119mm. This will show how serious this drought is. Western Cape dam levels are extremely low and it has been said that we will need three years of above average winter rains to fill the dams again so level 4 water restrictions have been imposed by the municipality and will stay in place for the foreseeable future. This means that municipal water can only be used for drinking, cooking and bathing. Thankfully our main supply dam on the 15th is still full, mainly due to the timely sinking of the borehole behind the 13th green. Even this good supply is starting to show signs of dropping off though.

There is talk amongst the scientists that this drought cycle could last years and this is of major concern to us as without sufficient water resources we will struggle to maintain the golf course and estate in the magnificent condition it is at present. Please be assured that your committee is giving this serious attention and are looking at all possible solutions to source more and sustainable water supplies.

On the positive side the greens have recovered well from our autumn hollow-tining. We could not do the fairways as the ground was too hard and would have damaged the equipment. Having said that they are still in remarkable condition considering that they are getting very little watering.

Desert Classic:
Playing on greens covered with sand is not much fun and normally members go play other courses. This obviously results in loss of revenue for your club and this was the rationale behind the introduction last year for this fun competition. It is proving to be a success with the field doubling in size to a full field for the shotgun start. This worked well with everyone in at the same time making it an early prizegiving and a wonderful meal was specially prepared by our chef. A great day enjoyed by all.

Monthly Mixed:
After a few years of sponsoring this event Seeff have decided to take a break from it and we thank Keith & David Colley for their generous sponsorship and support of our club. Without sponsors, such as Seeff the club and the game would be much poorer.

I am pleased to announce that a new sponsor has come on board for the rest of the year in the form of Genesis Interior Makeovers. Patricia Arbel, the owner, offers as first prize her expertise and will advise on a complete makeover of the room of your choice in your house. This should prove to be quite an exciting prize.

Last month's competition was a small field by normal standards but fun was had by all with good golfing weather and superb food prepared by our chefs.

Masters:
We had another very successful Masters weekend starting with the Par 3 nine-hole challenge. Fun was had by all with Greg Todd running out the winner with a score of 24 pts which included a hole-in-one. Unfortunately, this does not count as it was not on an official hole on the golf course.

In the main competition on Saturday with perfect weather and the course in stunning condition our winner of the trophy and Green Jacket was Martin Phillips with a good score of 40pts. Well done to both players.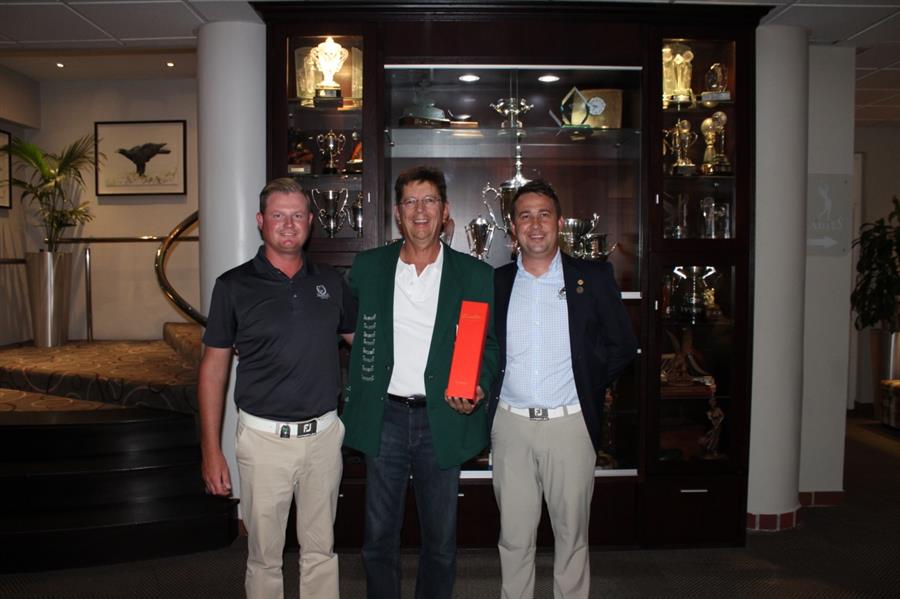 Ryno Rudolph, Martin Phillips & Morné Oosthuizen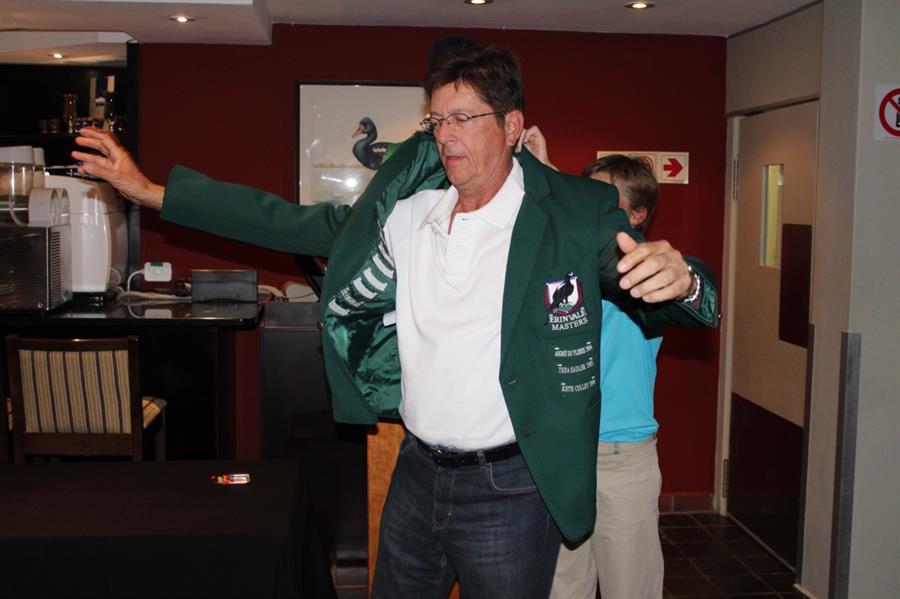 In true Masters Tradition here is the previous year's winner, James Boustead,
handing over the Green jacket to Martin Phillips.


Leagues:
Unfortunately, the ladies' winning streak came to an end at Clovelly recently but they are still well-placed so good luck in the coming games.

In the men's Harry Solomon League, we are not doing too well with a draw against Parow and defeats at the hands of Milnerton, King David Mowbray and Atlantis last weekend. The games played at Atlantic Beach were in horrific conditions, wind and rain, losing 3:5 but the games were closer than the points show. Thanks to the entire team for playing in those conditions. Not the end of the world as I am told it is not about the winning but competing. Try telling that to some of our more competitive members. Yes, it is nice to win but the camaraderie is important and we have met some wonderful competitors and those who play at Erinvale have nothing but praise for our golf course and the spirit in the club.

Rules:
There have been some interesting discussions of late about various rules in general as well as local Erinvale rules. Some of these will need clarity and your committee will be putting out a communication regarding those that are open to interpretation. One that I can state now that is abused on a daily basis is concerning the ropes running across the fairway in front of the greens. At Erinvale these are "immovable obstructions" and as such can't be moved/touched. If your ball, stance or swing is impeded by it you can elect to take a free drop within one club length not nearer the hole. Should you move/touch the rope you will incur a two-shot penalty. This rule is printed on the back of the score card so please in future take note of this as it will be very unfortunate to be penalised for failing to adhere to this simple rule.

Monthly Medal:
Unfortunately, this month's game had to be cancelled due to the gale force winds that we experienced throughout the day. Well done to those brave members who decided to carry on and the few who went out in the afternoon. At times, you must play this wonderful game in varying weather conditions so Greg Scrace and myself decided to give it a go. Greg shot a gross 79 with dropped shots in the last four holes. Super golf in the wind and needless to say he took my money but not without a fight. I managed to match him on the bottom nine with both of us shooting 39 but that is where it ended and the wind just wore me down to card a 48 on the back nine. Just makes you realise how good the professionals are with their physical and mental toughness.

Talking of physical toughness, the older one gets the more you need to keep your body in shape if you want to enjoy and prolong your golfing days. I have been struggling with minor back discomfort so I have been going to a biokineticist to strengthen my core. The result is that I am more balanced and hitting the ball further and all back pain has gone. There are already several Erinvale members going to the same person so we have discussed that she puts together a proposal designed for golfers. More about this in the coming weeks.

Monthly Draw:
Last month we had a good turnout considering that most our overseas members had already gone back. Good fun and food was enjoyed by all. The winners were:

18:00 Errol Ferriman R640
18:30 Louis Rose R960
19:00 Marianne Tulleners (who was in attendance) R1 600

Old age catches up with the president...
Frank McDonogh celebrated his 60th birthday recently and at his first game at Erinvale last Thursday he took advantage of it by, you guessed it, using the forward tees for the first time in his golfing career. Here is the photographic evidence and he is all smiles. It took him nine holes to get used to the shortened distance and then enjoyed a superb back nine with a 38. Welcome the seniors, Frank.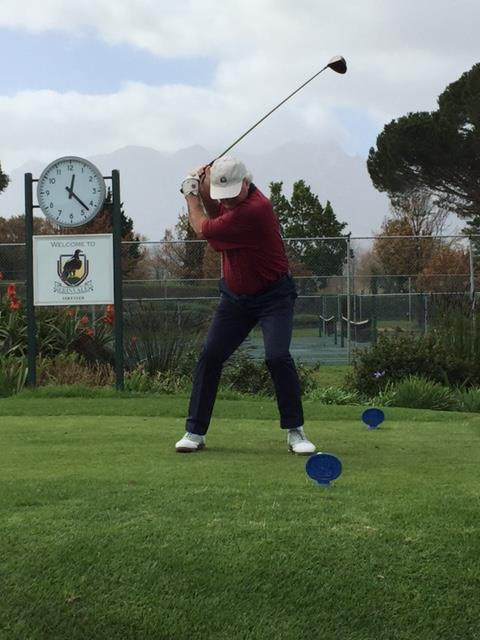 Monthly Members Draw – Friday 30 June
Winter Strokeplay Championships (IM) – Saturday 8 July
Erinvale Claret Jug (IS) – Saturday 15 July
Ted Perkins Centenary Trophy (AS) – Saturday 22 July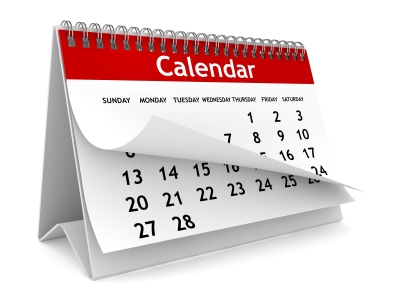 That's all from me for now, happy golfing.
Dean




Pages