Newsletters
Greetings from Dean
Monday, October 2, 2017 - 20:03

Monday, 02 October 2017



I hope this finds you all well and enjoying this magnificent place we call home. I would like to take this opportunity to catch up on overdue communication with you. I had a welcome sight this weekend with my resident swallows returning to their nests in our house. This will herald the return of our overseas members, a few of which have been seen in the clubhouse recently. Welcome back and there is certainly a new buzz around.

Water, the word that is on everyones mind, is still in very short supply and we were moved to level 5 water restrictions recently. Think about it, you can make do without electricity but you can't do without water. Water is the very lifeblood of our existence so it needs to be protected at any cost. As far as the golf course goes we are totally reliant on rain and our boreholes.

Thankfully the little rain we have had recently has helped to fill up our main supply dams. We still have a way to go but if we can get to December with full dams we might be able to get through the summer. I hear you say, we have the boreholes, and yes we do but with the low rainfall the underground resources are not being replenished so we need to manage these very carefully. All in all a very precarious position, so I urge you all to be very frugal in your water usage not only at home but in the clubhouse as well. With Level 5 restrictions we have to reduce our consumption by at least 20%. The cost of water is going to skyrocket not to mention the fines and court action that will be implemented on us by the municipality for excessive use.





The golf course has almost fully recovered from the spring hollow-tining and our course is looking superb. We have received many compliments from visitors both foreign and local and we owe a huge vote of thanks to Greg and his team. The bunker renovation on the 8th has been completed and I have only heard good comments. There is still a bit of grass growth around the edges to make it look stunning and back to its original status. With this success we will start looking at the other bunkers that are in need of fixing. This is not something we can do all at once so we will have a master plan and follow this into the future. The whole objective is to get consistency and playability to improve one's enjoyment while reducing the cost of maintaining our bunkers.

The sluit across the 7th along with the new bridge has been completed and looks great. Next will be the one in front of the 8th that is in need of repair.

Greens & Bunkers:
It seems like our and every other golf courses' issue of players not fixing pitch marks and raking bunkers is on the rise again. We have the most saught after greens in the region if not the country so please fix your pitch marks and any others you come across. The sooner they are repaired the less damage is caused. Worse, from a playing perspective, is the bunkers that are not raked. This is just pure unethical behaviour and a total disrespect to fellow golfers.

If you leave a footprint and another player's ball lands in it they have to play it as it lies. Totally unacceptable. At least a pitch mark can be repaired if it interferes with ones ball or line. There is a right and wrong way to rake a bunker so if you are uncertain please ask one of our resident PRO's to give you a lesson. Then there are those who simply walk out the bunker while dragging the rake behind not taking any notice of how ineffectual it is. I urge you all to take special care of the bunkers and do not walk in or out on the steep sides. If you happen to walk past a bunker and see that it has not been raked please fix it. From now on we will be watching and anyone seen or caught not raking a bunker will face the consequences.

Clubhouse:
We have been very busy aound the clubhouse with the various projects that we had planned for the latter part of this year. Many of you will have seen the new deck that is now open. It is looking great and is now safe with an all new sub-structure and eco friendly top. Following next will be the first phase of the revitalisation of the terrace bar.

Halfway House:
Last week we introduced the new halfway house menu and process. I know it is a change and many people do not like change but we need to improve the speed and flow through the halfway house. It is just not possible to cater for every individual's wishes, so please be understanding and follow the process so that we can make a success of this initiative. This is a living process and as we go along we will iron out any issues that arise.

Please note that the halfway house kitchen is closed until 09:00 when the first golfers start coming through. This is to enable the kitchen staff to prepare the food for the golfers. For those who want breakfast before the game this is still available as we have now opened the main kitchen to cater for this need. There is also a fantasctic new breakfast menu and of note is my favourite, eggs benedict. It is as good as you will get anywhere in town.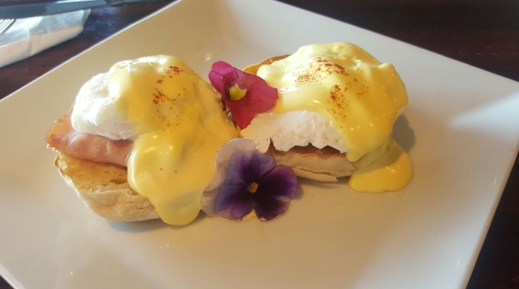 Eggs Benedict






On Sunday 24 September we hosted The Winelands Challenge.

This is an annual round robbin between Arabella, De Zalze, Erinvale, Pearl Valley & Steenberg with each club taking a turn to be the host. Each Estate submits a team of eight men and four women. We play B/B Stableford and then take the best five scores to get a total for the day. Erinvale were in 3rd place at the start but ended the day on top of the league with the entire team playing out of their socks to give us a seven point lead with two rounds to go. This is the best we have done since the competition was started. Well done team. Not only that but the entire operational team under our Head Golf Professional, Morne, did an outstanding job to ensure that the day went off smoothly, truly world class. A special word of thanks to Avontuur who so generously donated the six magnums of wine as prizes. Then it ended with a superb lunch. I received many compliments on the day and since then. With the outstanding course condition it was a memorable day and we certainly raised the bar. Congratulations to all involved, you made me proud to be Captain of Erinvale.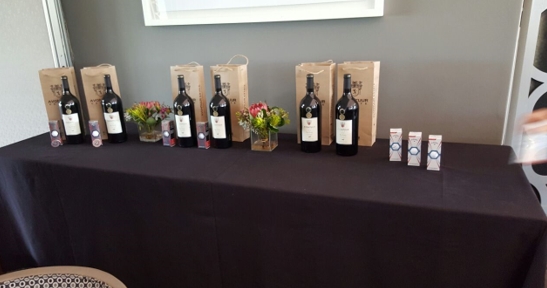 Winelands Prize Table


Desert Classic:
This bi-annual competiton is going in popularity and we had a good turnout for the spring event. Loads of fun and laughter on the course followed by prizegiving and food. Besides the fun it is good support for the club when there is little incentive to play on recently hollow-tined greens. Thanks to all who participated and we look forward to a bumper turnout for the next one in autumn. Congratulations to the winners Loraine Rimmer, Robert Rimmer, Talli de Wet & Jakes de Wet.

Squeagles:
This is a bi-annual match against our neighbours, Somerset West, that was started in 2015 by Frank McDonogh, Gavin Woodroffe & Willem Guy. It has proved to be a very successful event and forges a friendly relationship between the two clubs. The last one held at Erinvale in August was won narrowly by Erinvale. Congratulations team Erinvale, who now lead the series 3:1.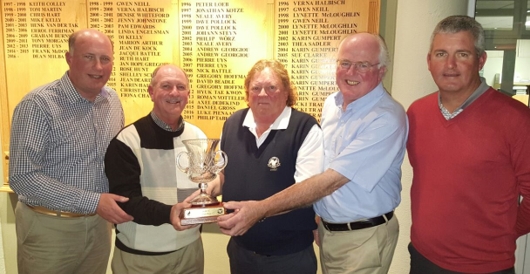 Blyth Reid (General Manager – Erinvale), Dean Milbank (Club Captain – Erinvale), Craig McKenzie (Club Captain – Somerset West),
Frank Mc Donogh (Club President – Erinvale) & William Guy (Head Professional – Somerset West)


Claret Jug:
Winter with summer conditions and the course in superb condition was the order of the day on 22 July. We had a full field with some good scoring but nobody could get close to our eventual winner Sean Coull picture below. To top it off there was a raffle for a designer Callaway Golf Bag that was won by Ruth Hart.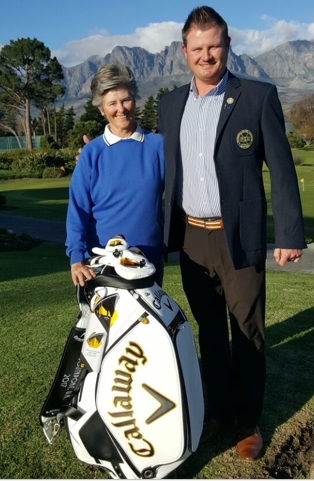 Ruth Hart & Ryno Rudolph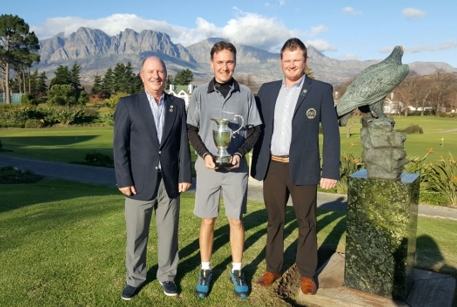 Dean Milbank (Club Captain), Sean Coul & Ryno Rudolph


Ted Perkins Centenary Trophy:
This was held on 15 July and was introduced to mark Ted's hundredth birthday. The beautiful trophy is a clock made by Ted himself in his workshop at home at that age, truly remarkable. Winners were; Lou Rose, H. Smedsvik, D. Rencken, S. McMeeking.

One Hole Challenge:
After a break last year we rekindled this fun game on late Friday afternoon the 1st of September. It was played as an individual Stableford starting on the 16th Tee and ending on the 6th Green. We worked this out to be a par 11 but added two shots for a level of difficulty.

So after a cocktail pre-drink on the 16th tee off, we went to tackle this monster hole. It was close in the end with two players on 14 with Siggi Konrad winning on a count out. Longest day was Sonja Zuber. I must mention that there were those who were longer but they did not manage to finish. Getting past the 17th tee proved to be tough. Another fun event and we will be doing more such events, so watch this space.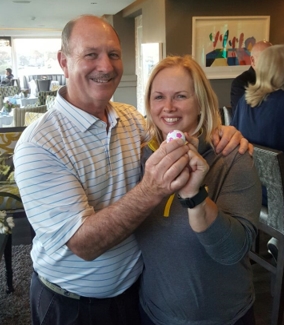 Dean Milbank & Sonja Zuber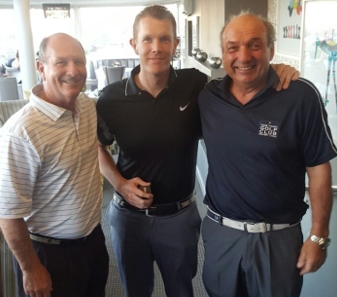 Dean Milbank, Phillip Haynes & Siggi Konrad






On Saturday we welcomed our friends from Pymble Golf Club in Sydney for their annual tour to South Africa, this is their fourth visit and is traditionally towards the end of their tour, clearly saving the best towards the end.

The players had nothing but praise for our course and the friendship they received. With the course being in magnificent condition and the wonderful weather, congratulations to Erinvale for winning 3:1.





It was wonderful to see the Playas Bar full and everyone having some fun. We had a New Members Cocktail Party and they were warmly welcomed.

Monthly Club Draw Winners:
1st Draw Fiona Chandler R1 160
2nd Draw Herbie Benetar R1 740
3rd Draw John Arnold R4 400 (Not present – Carried Over)

We thank John Arnold tremendously for leaving 5 minutes before the last draw leaving a R4 400 carry over.





I am sure you are all aware that golf carts can cause significant damage to grass especially around the greens and tees. This is the reason we do not allow carts beyond the blue ropes in front of the greens and around the tee boxes. This also applies to fairways when they are wet.

Unfortunatley we have noticed that there are some players who do not take note of these rules. We do have some members who through injury or illness have limited mobility who need to drive inside these areas. These members will have submitted requests along with supporting documentation from their medical practioner and have been granted permission to drive inside these restricted areas. To make it easier for the marshals to manage as well as for other players to identify with, we have had "medical exemption" signs made and issued to those approved. Nobody other than these designated players with the sign on the cart is permitted inside these areas on golf carts. Please respect your course and the marshals, should you be asked to stay out of these areas.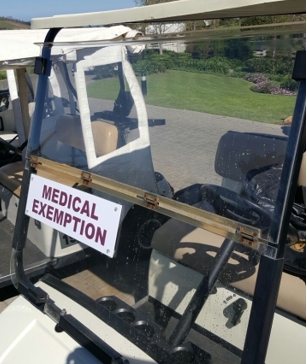 Medical Exemption Cart








One of our very own, Ivan Roos, will be the next Captain of Boland Nomads. Congratulations Ivan, this is a fantastic achievement and I am sure you will bring your very own personal touch to the Boland Nomads. I am sure they will hear your favourite saying, "one more drink then we will stay".

To show you how much of a character he is, if you did not know it already, here is a picture of his dress code at a recent game of golf at Erinvale. Like the style Ivan.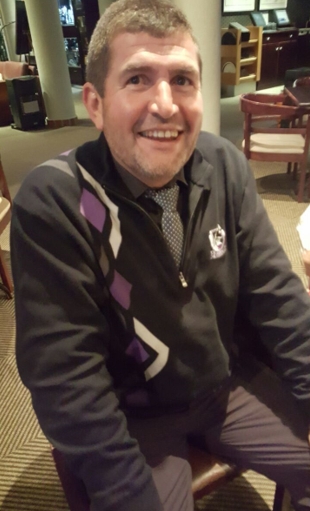 Ivan Roos






3 October – Ladies Spring Day Waltz
11 October - Member Competition
12 October – Boland Nomads (Thursday, so our members competition will be moved to Wednesday 11 October)
21 October – Arbor Day competition
29 October – Genesis Mixed Open
31 October – Lady Captain's Trophy

That's all from me for now, happy golfing.
Dean




Pages